The iPhone 14 is a capable smartphone with a seriously snappy CPU and lovely screen. Its cameras are good, too. However, when comparing it to the iPhone 14 Pro, there are some notable differences. For example, you save USD$200 by purchasing the standard model instead of the Pro version. If you do not require a big screen on are a budget this solid iPhone – with a couple of really cool next-gen features that you may never use – might be the right phone for you.
Pros
Same Familiar design and high quality
New heat dissipation interior
Improved TrueDepth camera
Emergency satellite communications
Cons
The notch remains
A15 Bionic chip (Same as the last generation)
Most upgrades are minor with no major change
The latest iPhone, which features last year's design and last year's CPU, is not going to win any awards. But taken on its own – out of the shadow of the new iPhone 14 Pro – the new iPhone 14 looks like a pretty darn good smartphone.
Apple's new iPhone, the iPhone 14, looks a lot like its predecessor, but it has been upgraded in numerous ways that promise to deliver a better experience overall.
The iPhone 14's two rear cameras – a 12MP wide and 12MP ultra-wide – have new sensors, while the 12MP TrueDepth camera, which captures depth information for effects like portrait mode, now has a brighter lens. Apple also says it's been redesigned with a new "photonics engine" that helps capture more light. The company says it's all about giving users better photos and videos, but it sounds like it might just be a way to catch up to some of its competitors.
The iPhone XS Max has a 12MP sensor with no zoom and quad-pixel binning. For a zoom or quad-pixel binning, you will need to upgrade to the iPhone 14 Pro or iPhone 14 Pro Max.
The new iPhone 14 and 14 Plus continue to feature Apple's excellent Super Retina XDR OLED screen, but if you're not a fan of the notch you may want to go for the 14 Pro or Pro Max, which are rocking Apple's Dynamic Island along with an adaptive refresh rate and always-on display. Apple also made the decision to keep last year's iPhone 14 and 14 Plus on this year's silicon. Granted, it's not the same A15 Bionic that ran last year's iPhone 13 and 13 mini; instead of a four-core GPU, this A15 Bionic has a five-core GPU. It's essentially the same chip that was in last year's iPhone 13 Pro and 13 Pro Max, so we can expect improved performance over last year's chip.
There are some cool new features in the iPhone 14, including crash detection; where your phone will know if you're in a car crash and automatically alert emergency services and key contacts. In a similar vein, the iPhone 14 can now use satellite communications to contact emergency services. It's an industry first, and I'm glad to see that even Apple's entry-level iPhone 14 got this new ability.
https://store.storeimages.cdn-apple.com/8756/as-images.apple.com/is/iphone-14-model-select-202209-6-1inch_AV1?wid=5120&hei=2880&fmt=jpeg&qlt=90&.v=1660744889152
Apple unveiled its new line of iPhones —the iPhone 14, iPhone 14 Plus, iPhone 14 Pro and iPhone 14 Pro Max—on September 7, 2022. The iPhone 14 is now available for preorder (and in stores) as of September 16. It starts at $799 / £849 / AU$1,399 for the 128GB model, but you can get it with up to 512GB of storage (check out our best iPhone 14 deals if you're already interested).
The iPhone 14 looks very much like the iPhone 13. Its aluminum frame, button placement, stereo speaker grilles, Lightning port, and even the screen are all unchanged. However, there are some tiny structural differences in this model.
The iPhone 14 is a little thicker and lighter than the previous iteration. It's also just a hair larger than the iPhone 13. The new thermal architecture inside the device also contributes to its weight difference. Despite physical similarities, the iPhone 14 does not fit in an official iPhone 13 MagSafe case – the body slides in just fine, but there is too much space between the two-lens camera array and the display.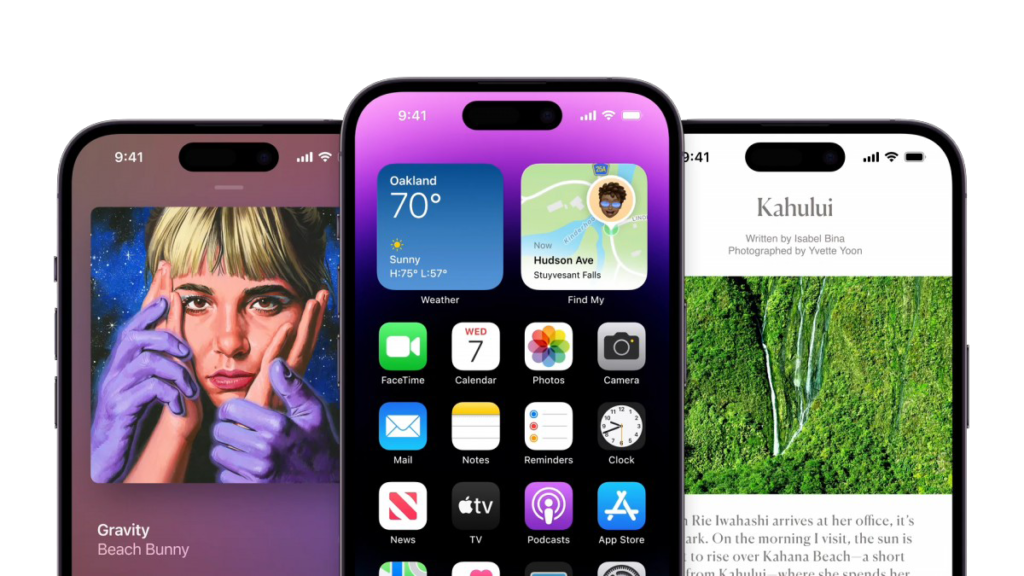 Familiar 6.1-inch Super Retina XDR
The notch is still present
No adaptive refresh or always-on functionality
Still a high-quality OLED display
The iPhone 14's Super Retina XDR display has a 2532 x 1170, 460ppi resolution. Not much has changed from the iPhone 13. The notch that's been banished from the iPhone 14 Pro and Pro Max lives on in this now somewhat aging design. It encompasses an updated TrueDepth camera (it's still 12MP, but backed by a better light-gathering sensor), an IR sensor, flood illuminator, and, above it all, the top speaker (the other speaker is on the bottom of the phone). This is likely the last hurrah for the notch; it seems hard to believe that it'll survive in next year's anticipated iPhone 15.
Even though this is a bright and colorful display with inky blacks, it's worth noting that it doesn't feature everything in the new Apple display toolkit. It doesn't have an adaptive refresh rate or ProMotion, which we first saw on the iPhone 14 Pro and Pro Max. Instead, it offers a standard 60Hz refresh rate. That might be hard to swallow when the iPhone 14 Pro and Pro Max offer adaptive refresh rates that range from 10Hz to 120Hz plus an always-on display mode that can stop down to just 1Hz for extra power efficiency.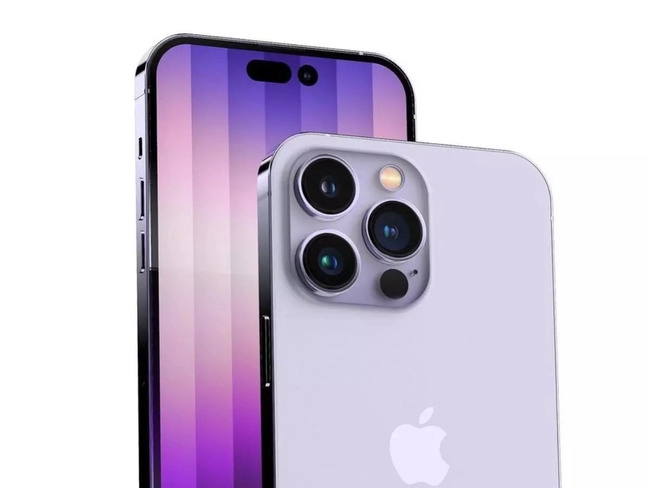 Familiar 12MP main + ultrawide on the back
New sensors across the board
Photonic Engine further improves image quality
New Action mode
The iPhone 14 has two rear cameras: a 12MP main camera (26mm, f/1.5) and a 12MP ultrawide camera (120-degree field of view, 13mm, f/2.4). These are good cameras with better sensors and overall low-light performance compared to their predecessors. The front camera—also 12MP—now has autofocus too, which should make group selfies somewhat easier.
Like previous iPhones, the iPhone 14 comes with a brand-new feature, Active Mode. To enable it, open the Camera app and tap the running person icon in the top right-hand corner of the viewfinder. This mode can help you record smoother videos since it crops out unwanted parts of your video before saving it. The new Active Mode feature on the iPhone 14 is a useful way of eliminating shaky video. When you select the running person icon on the top right of the camera app's viewfinder, your iPhone will crop your video to keep a subject in-frame, resulting in smoother footage than that captured by today's smartphones. This processing does discard some video information (resulting in a cropped frame), but it results in GoPro-smooth footage. If you're an action fan, you might find this feature a godsend.
Apple iPhone 14 audio is clear, loud, and bright. Apple has been consistent on the audio side with all four iPhone 14 models having stereo speakers and spatial audio support, which adds a surround-sound effect. In movies and music that support it, spatial audio creates a sort of surround-sound effect. Apple has made good use of stereo speakers and spatial audio with the iPhone 14 line. Both are featured on all four phone models, along with loud and clear sound that can be made louder if you like.
Improved battery life to last the whole day
Wireless charging
The iPhone 14 is rated for 16 hours of streaming video, 20 hours of video playback, and 80 hours of audio playback. We managed to get a full day's use without charge. The iPhone 14 (same as the previous model) comes with with a Lightning-to-USB-C charge cable and no charger.
APPLE IPHONE 14 PERFORMANCE
Still uses the iPhone 13 Pro's A15 Bionic chip
New heat dissipation system built in
The A15 Bionic chip is a powerful processor. It's a solid chip that has been able to outpace Qualcomm's offerings in previous years, and it has plenty of space to spare. In real-world use, you might not notice much of a difference until many years into using it, but the iPhone 14 Pro and Pro Max benefit from A16 Bionic chips that are faster and more efficient than what is offered here.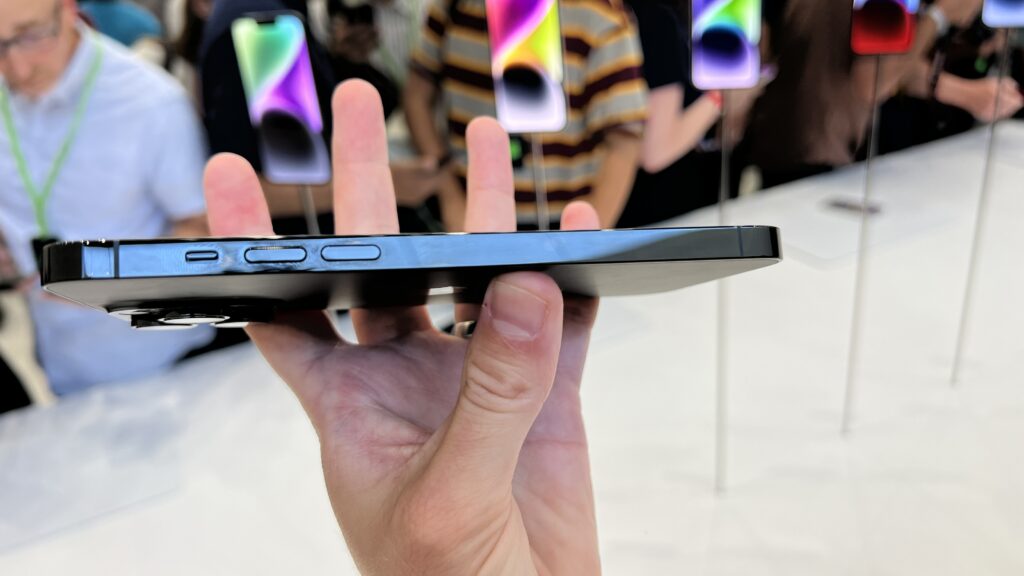 Yes, the new iPhone 14 does not have a physical sim card. Is this good or bad? We will leave you to decide
In response to customer complaints about the removal of SIM card trays on iPhone 14 models sold in America, Apple today published a new support document outlining various "options and benefits" for using eSIMs while traveling abroad.
Apple says it is more secure to have an eSIM than a physical SIM since you can't remove the eSIM from your iPhone if someone steals it. Apple also says that you won't need to carry around or wait for SIM cards when traveling abroad with unlocked iPhones with eSIMs.
The iPhone XS and newer can store up to eight eSIMs, while the iPhone 13 and newer can have two active eSIMs at a time. For example. Users can easily switch amonst which of your stored eSIMs is active, simply change your selection in Settings.
Apple goes on to mention that many providers of international services also offer prepaid data plans for long-term use in many countries around the world.
Some people have expressed concerns about the availability of eSIMs when traveling abroad to more developing countries that may not have eSIM-only Sim cards. For example more developing countries, may not have ESIMS cards and still rely on physical Sim cards. In this scenario, users of new Iphone14, may not be able to use the local networks.
AND SATELLITE CONNECTIVITY
The other cool new connectivity feature is satellite-based emergency SOS. Apple is working with Globalstar low-Earth orbit satellites to provide this extra level of support in case of an emergency. A tiny 'SOS' and satellite icon in the upper-right of the display. It is worthy to note that this only happens when there is no connectivity, and you're in the outdoors and have a good view of the sky. The purpose of this is in times of emergency use, when you need urgent and immediate help to call local authorities.
IOS 16
Comes with new features
Display now shows battery life percentage
Cusomised lock screen (Finally!)
Able to have multiple wallpapers
The new iPhone 14 comes a bunch of improvements, including a new lock screen. Which we felt was one of the exciting main new features. You can now have multiple screens, each of it is customisable. You can now add widgets to the lock screen, choose your font and display option for Date & Time. This really allows you to personalize your phone to the experience you wish. Gone are the days that every iPhone looks the same (apart from the wallpaper) There are other cool features, like editable and retrievable texts, multi-stop directions in Maps, live text in videos, and more.