Tampines, a family-friendly Singapore neighborhood, offers exceptional childcare options for children to thrive, learn, and be nurtured in a supportive environment.
Three childcare facilities that are highly recommended will be examined in more detail in this article: Genesis Child Care, GUG Preschool, and MindChamps Chinese PreSchool. These institutions have won recognition for their dedication to high-quality instruction, accomplished faculty, exciting curriculum, and distinctive features. Now let's go into the specifics and examine the unique qualities of each center to enable you to make a selection that aligns with your family's tastes and your child's requirements. Prepare to learn about the top daycare alternatives available in Tampines!
Since 1989, Genesis Child Care has earned a reputation as a reliable early childhood institution in Singapore. Genesis Child Care operates three facilities nationwide, including one in Tampines, and is committed to giving young children comprehensive care and promoting favorable learning dispositions.
Genesis Child Care Tampines values every child as unique and precious, emphasizing love and care in their development. With over 32 years of experience, experienced teachers deliver a warm, supportive environment, focusing on early childhood education principles and facilitating interactions to promote overall development.
The focus on outdoor recreation and environmental awareness at Genesis Child Care Tampines is one of its best features. In the facility, kids may play games, practice their motor skills, and go outside to play, which helps them grow physically and acquire social awareness. The facility also promotes creativity with projects like sculpting, painting, crafting crafts, and sketching. Participating in these activities improves Children's aesthetic sense, which helps spark their imagination and innovative thinking.
The curriculum of Genesis Child Care Tampines is comprehensive and covers many subjects. The center ensures that kids have a well-rounded educational experience, including programs in communication skills, social interaction, and literacy in math and language. Children learn essential skills while having fun via games, counting money, matching pictures, and other engaging activities. Depending on the curriculum chosen, Genesis Child Care Tampines provides a range of rates for its services. The variety of monthly school costs, from $1080 to $1600, allows parents to select the program that best suits their child's educational requirements.
Genesis Child Care Tampines, a reputable early childhood center in Singapore, received the Entrepreneur of the Year Award in 2018. With experienced teachers, holistic development, engaging activities, and a nurturing environment, parents can trust their children's quality care and education.
GUG Preschool, founded by Deanne Chong-Duffield in 2002, is a renowned childcare center in Tampines offering programs for children aged ten to eight. With dedicated teachers, well-qualified and experienced, they deliver award-winning curriculums, fostering a warm, caring environment.
The award-winning curriculum at GUG Preschool is one of its unique qualities. Exclusive, carefully written high-achievement books are included in the curriculum. These books are created to enrich learning opportunities for kids and develop a lifelong love of reading. GUG Preschool gives kids a well-rounded education, including reading, composition, food, artwork, theater, music, and scientific activities.
The supportive learning atmosphere that GUG Preschool offers allows for the best possible interactions between teachers and students. The teachers at GUG Preschool use tried-and-true teaching techniques to present a curriculum of the highest caliber. Children at GUG Preschool get an excellent education via various activities, including reading, writing, cooking, art, theater, music, and scientific projects. Kids are urged to use young imaginations, experience the world with all of their senses, and take part in interactive games that foster their entire development.
GUG Preschool in Tampines offers a comprehensive early childhood education with an award-winning curriculum that fosters creativity and holistic development. The preschool offers engaging activities like tracing ant trails, floral collages, and static electricity. GUG Preschool is a highly reputable childcare center in the Tampines, recognized for its dedication to fostering young minds and high-quality instruction.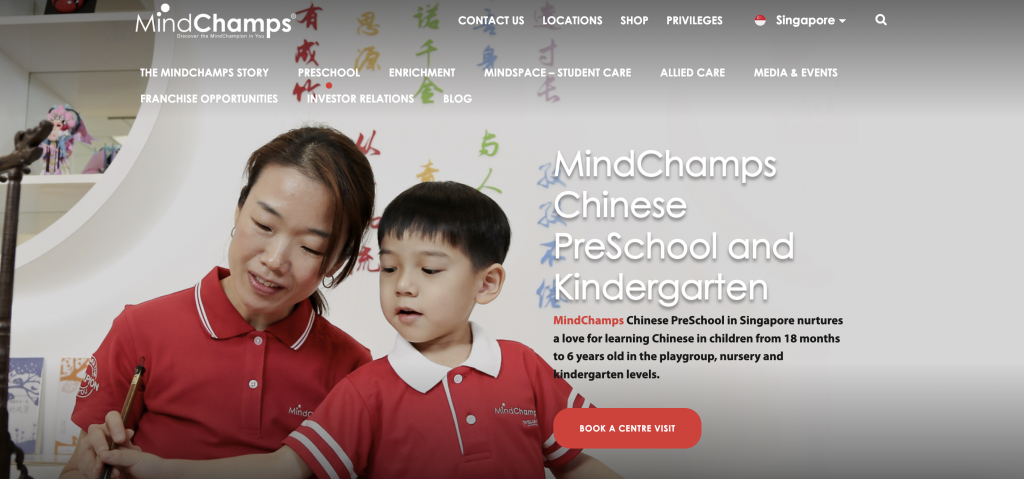 MindChamps Chinese PreSchool
MindChamps Chinese PreSchool in Tampines offers high-quality bilingual education for children from playgroup to kindergarten. Established in 2015, the preschool emphasizes creating a Chinese teaching environment, offering full-day and half-day programs, and providing opportunities for bilingualism.
The Chinese Preschool MindChamps believes in giving kids a well-rounded education. The preschool instructors have received training on including S.M.I.L.E.S.TM components in their teachings, activities, and games. These components include the development of sensory, motor, intellectual, linguistic, emotional, and social skills. The preschool ensures that kids get a well-rounded education that fosters all parts of their development by incorporating Mandarin courses and other fun activities.
MindChamps Chinese PreSchool offers a bilingual curriculum for a smooth transition from preschool to primary school, focusing on essential skills and a strong foundation in Chinese and English. Outdoor learning opportunities promote physical development and curiosity, while school bus facilities provide convenience for parents.
MindChamps Chinese PreSchool in Tampines offers various fee options for playgroups and nursery to kindergarten levels. It provides high-quality bilingual education, focusing on Chinese teaching, S.M.I.L.E.S.™ elements, and a comprehensive curriculum. The preschool offers outdoor learning and convenient school bus facilities, making it a reliable choice for parents seeking a top-notch childcare center in Tampines.
Recommended Childcare Tampines
The reputable childcare centers in Tampines are Genesis Child Care, GUG Preschool, and MindChamps Chinese PreSchool. Each center offers unique features and strengths that cater to different preferences and priorities. Here's a summary of the recommended childcare centers:
Genesis Child Care: Established in Tampines in 1989, Genesis Child Care has a long history there. Early childhood educators have extensive training and knowledge. a concentration on providing productive learning experiences and inspiring inquiry in children. Games, outdoor activities, and social awareness are all highly valued. Offers a variety of exercises, including those for language, arithmetic, and art literacy. The monthly tuition fee is between $1080 and $1600.
Deanne Chong-Duffield established GUG Preschool in 2002, and it is renowned for its devoted instructors. Early childhood educators are well-trained and experienced. Award-winning curriculum with premium books for great accomplishment. Strong emphasis on science experiments, writing, acting, music, culinary, and other creative endeavors. Creates an atmosphere that is favorable to learning while encouraging multi-sensory discoveries. In both 2019 and 2020, she was given the Aspiring Women Entrepreneurs Award.
MindChamps Chinese PreSchool is a multilingual institution that opened its doors in 2015. offers full- and half-day programs with a Chinese language and cultural emphasis. The S.M.I.L.E.S.TM components are included in lessons by teachers to promote holistic development. Bilingual curricula support the transition from preschool to primary school. Provides facilities for school buses and chances for outdoor study. The price of attending school might range from $1,995 to $2,295, depending on the curriculum and length.
Parents may choose to enroll their children in Genesis Child Care, which emphasizes social awareness and outdoor activities, GUG Preschool, which has devoted teachers and an award-winning curriculum, or MindChamps Chinese PreSchool, which offers a bilingual education and a Chinese language and culture focus, depending on their personal preferences. You are advised to visit each facility, interact with the personnel, and decide which one best suits your wants and tastes while meeting your child's needs.